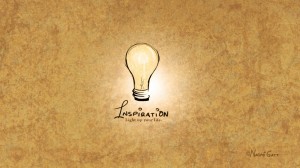 A few days ago, as I contemplated different ideas as my possible first blog post, I slowly became inspired by… well, inspiration itself! And no, I'm not being redundant.  Let me further elaborate on this.
As I had had this "figure out my first blog post topic" task on my to do list for the last few days (which I can now luckily cross off the list!), I set out to ask some of my closest friends if they had any suggestions I could add to my brainstorming list of ideas.  A couple of them mentioned I should write about what and who inspires me, and more specifically what inspired me to start this blog. I, of course, said I would consider that idea (mostly out of appreciation for their trying to help), but must admit I had pretty much dismissed it almost immediately.  However, as the conversation on inspiration carried on with one of my aforementioned friends, and as I realized that's what I was actually looking for at that moment, looking for inspiration to hit me so I could start writing, I found myself wondering about that little and often elusive word: inspiration.
I've certainly heard it millions of times, it has become commonly used by most people, and I have undoubtedly used it myself quite a bit, but truth is I never really thought about what inspiration really means. Up until now my concept of inspiration could basically be summed up like this, inspiration = getting a cool idea about whatever. So, for the first time ever the three following questions popped up in my mind:
What is inspiration?
Where does it come from?
Why do we constantly, sometimes even desperately, search for it?
Of course as I often do when searching for answers, I resorted to what has become my (and granted most of the world's) primary source of information, Google. Which incidentally led to a couple of my other frequently used sources of information, Dictionary.com and Wikipedia.
The definitions of inspiration on Dictionary.com were rather repetitive ("something inspired as an idea", seriously Dictionary.com?!), so I decided to look up inspire instead. To inspire means to fill, exalt, produce, arouse, to influence, to animate as a feeling, thought, or the like, does; it also means to breathe into or upon, to breathe life into; and finally, somewhere in there, it also mentioned this definition "to guide or arouse by divine influence or inspiration".
Then, I moved on to Wikipedia, which provided a list of topics that inspiration or inspire may refer to, and I decided to click on Artistic Inspiration, which is really the type of inspiration I've been wondering about. "Inspiration refers to an unconscious burst of creativity in a literary, musical, or other artistic endeavor. Literally, the word means 'breathed upon,' and it has its origins in both Hellenism and Hebraism." Basically, it's the same definition provided by Dictionary.com, just better articulated. However, Wikipedia provided a brief history of the concept that I found interesting.
Inspiration throughout history has gone back and forth between being considered a divine gift and a mere human thought process. From ancient Greece up until the mid 18th century, it was considered to be strictly of mystical nature, a gift from the gods. Then came the Enlightenment Era with all its rational thinking, and inspiration became purely human, something to be influenced by natural and developed faculties of the artist. Shortly after, with Romanticism, both ideas seemed to merge a bit when the concept of genius as "the god within" was introduced; it located inspiration within the personal mind but still positing a supernatural quality to it. Finally, in the  20th century, the modern concept of inspiration was introduced by the Freudian thinking current, locating it in the psyche of the artist, even deep in his subconscious. However, regardless of inspiration being considered mystical or human, it has always been understood that it is desired yet involuntary and uncontrolled, and it has been associated with madness and irrationality; the stereotype of an artist as a wounded, tormented soul has always been present. Nowadays inspiration is not frequently studied, but it remains seen as an entirely internal process.
That was as far as I was planning to go on my little research on this topic when one of the friends that suggested inspiration for this post sent me the video of Liz Gilbert's TED talk from 2009 where she talks about, you guessed it, inspiration! (Side note: Liz Gilbert happens to be one of the people that truly inspires me). In her talk she also goes thru a little recount of the history and fun facts of the artistic creative process, but she's particularly concerned with the historic idea that creative artists need to go through torment and be tortured by this process in order for the outcome to be any good. She claims that although she wouldn't propose we entirely go back to believing in the ancient concept of inspiration as a divine only matter, she does suggest that the modern concept of inspiration as an exclusively internal human process and the pressure this puts on the artist might in fact drive the person to become the ultimate stereotype of the mad tormented artist. Her solution to this dilemma is to reconcile both concepts somewhere in between, where inspiration is neither completely external nor internal, but a meeting of both, a collaboration of the artist and "the strange peculiar thing" that is not quite the artist. And after talking about a few artists' beliefs and experiences with this kind of notion, she shares her own experience on deciding to talk to "that thing" while writing Eat Pray Love and telling it "I am putting everything I got into this, so if you want it to be better, you gotta show up and do your part of the deal… and I would please like the record to reflect today that I showed up for my part of the job."  According to her, this experience completely changed how she looks at her work and her own creative process, and helped her find peace in it.
As a result of being faced with all this information, and trying to decide which option better suited me: (a)inspiration is external, divine only; (b) inspiration is internal, entirely located within the human mind; (c)inspiration is both external and internal, a collaboration of the divine and human; a light bulb went on inside me (inspiration itself perhaps!) and provided me with my own answer- (d)all of the above!!  So here is my newfound belief when it comes to inspiration, and it's pretty simple, inspiration… is… everywhere. It is external and divine as part of whatever creative force put the galaxies, the universe, and all of us here in this time and space. It is internal and human as part of our own creative power, which we use constantly to, well, create (art, products, our lives!). It is a collaboration of both, but not in this way of one creative force meeting another, but more in a way of one being the other! Everything in this world is made from this creative energy that put us here, whether you think of it in spiritual terms (as in God/Allah/the universe/insert-your-word-of-preference-here made us and He/It lives in us and all around us), or scientific terms (as in The Big Bang theory states some really hot and dense energy expanded and converted into subatomic particles that we are all made of). Therefore, if this creative energy is everywhere, in us, all around us, connecting us, then my conclusion is that so it's inspiration; and maybe when something or someone inspires us, they're just serving as an access point to this energy that binds us, of which we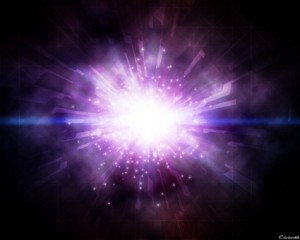 take its creating power to create something of our own, and hopefully releasing it back by having our own creation inspire someone else.  Maybe that's why our ability to relate is usually a good source of inspiration, because we recognize in some outer form what's also inside of us, and that energy moves us. Maybe this realization will make inspiration more accessible to us, if we are able to consciously look at the world in this state of connection, of oneness. Moreover, if we manage to do this, then Liz Gilbert's statement of showing up and doing your part in the creative process seems even more profound; it means inspiration awaits us everywhere, at every turn, and it's just our job to show up and recognize it.
So, now that we are well acquainted with the concept of inspiration, whatever meaning you choose to give it, whether you agree or not with my new idea of it, just be prepared to see the word 'inspiration'  in this blog a lot, as I will be sharing with you anything that inspires me, from people and stories to music, pictures and quotes. And please, oh please, share your own inspirations with me.