Since I did my last post on beauty, some of you have been asking me about my daily beauty routine for my face at morning and night, and about the products I use. So I figure I would share that information with all of you here. However, it would make for one long (and possibly boring) post, so I decided to make it into a series, and I will be posting all the information in parts all throughout this week.
Like I had mentioned before, I am very consistent and disciplined about my beauty routine, especially since I suffered from pretty bad acne in my early 20's, and I'm experiencing it more mildly right now, along with slight rosacea. I'm also quickly approaching 30, and it's about time to start preventing and fighting signs of aging. So no matter what's going on or how tired I am, I follow this routine almost religiously.
So let's get started with the first part of this beauty series. I'll begin with some info about my morning routine. Every single day, I start my routine with a clean face. I've been using Pond's Morning Refresh Cleansing Towelettes for quite a while now; they have an exfoliating side, and clean pretty well, plus they are easier and faster to use than actually washing my face with soap and water. I also use an actual scrub cleanser at least 3 times a week; right now I'm really happy with Neutrogena Naturals Purifying Pore Scrub. It's free of harsh chemicals, uses mostly natural ingredients (trust me, I always check the list of ingredients, regardless of whether a product claims to be all natural or not), and contains salicylic acid which helps keep pores clear. Also, its exfoliating beads are really fine so it's not irritating, perfect for sensitive skins.
Then, after cleansing my face, I move on to an often overlooked but very important area: the skin around the eyes. I usually have dark circles under my eyes and they often get puffy, so I am always looking for help with those issues. What I've been using for a few months is the Sephora Instant Depuffing Roll-on Gel. It complies with all my requirements, and works nicely.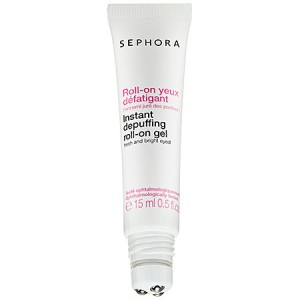 That's it for today. Don't forget to look for the next step of this routine tomorrow! And as usual, let me know how any of this products work out for you if you decide to give them a try.
Pond's Morning Refresh Cleansing Towelettes: $4.67 at Walmart.
Neutrogena Naturals Purifying Pore Scrub: currently on sale for $6.79 at Ulta.
Sephora Instant Depuffing Roll-on Gel: $15 only at Sephora.