By now you know that I love fashion, all of it. What you may not know is that my love of fashion is not just about me. It's not just that I love looking at it, and it's not just about figuring it out for myself and my own benefit. One of my favorite things to do is to dress other people. Ok, that may sound odd, I don't mean to literally dress other people, so let me rephrase…I love styling other people! For those of you not familiar with the term styling/stylist when it comes to fashion, it means to coordinate, arrange and put together outfits for other people to wear. Fashion stylists exist mostly in Hollywood, where they have become practically a must, or as Wikipedia explains it, "A Fashion stylist is the job title of someone who selects the clothing for published editorial features, print or  television advertising campaigns, music videos, concert performances, and any other appearances made by celebrities, models or any other public figures." Public figures, especially celebrities, rarely ever pick their own clothes for public appearances, and some even get help figuring out what to wear in their everyday personal lives.  Job descriptions for a stylist can varied from one assignment to another, but often they include acting as a personal shopper as well, which means besides helping her clients figure out what to wear with what they already own, a stylist also helps them shop for the latest trends or any pieces their closets might be missing .
So basically, I'm an amateur stylist at heart. As a matter of fact to become an actual official stylist would definitely be one of my dream jobs. Another dream job would be to be a film's wardrobe stylist, which means I would get to figure out what every character in a movie or tv show wears based on their stories and personality profiles (I also have some other dream jobs not fashion related, but I'll leave those for some other time).
Ever since high school I've been helping my friends figure out what to wear, what pieces to put together, what looks might be most flattering on them, and of course to shop! One of those friends I've helped in the past in this area is my gorgeous friend Ann. We've been on several shopping excursions together looking for pieces that are fun and different to what she might usually get when shopping on her own, and especially pieces to show off her assets, which, as you'll see in the pictures, are many since she's one of those lucky people who won the gene-pool jackpot.
However, my latest styling session with her didn't include shopping. We got together a few days ago so I could help her go through her closet and what she already owns to figure out how to remix her wardrobe. It turns out, she even had some amazing pieces she had never worn, tags still on and all, because she wasn't sure what to pair them with.
Now, all that said, let me be very clear about this, Ann is not fashionably-impaired… at all. She has a great sense of style of her own, but even people with good fashion sense can occasionally get stuck in a route. It's easy to get too comfortable with certain looks and staples, and it does require a conscious effort and even some help to get the creative fashion juices flowing again. And that was one of our goals with this session.
We only had a little over 2 hours to do this session, including pictures, so I didn't have enough time to go through her whole closet, but I was able to put together a few outfits. Something else I'd like to point out, hoping it serves as inspiration to other women out there, is that Ann is in her 40's. There's nothing particularly interesting about that fact, except that I know a lot of women do limit themselves from having fun with fashion because of their age. I know "age-appropriate" seems to be a big rule when it comes to dressing, and I do think one needs to have certain boundaries when it comes to it, but very often it's taken way too seriously. Particularly nowadays, when age is becoming more about a state of mind and attitude than about a number, and with people of all ages defying what used to be the norm for their age group, I believe women can dare be a little more adventurous and free with their wardrobe choices, at any age.
The first outfit I put together is a perfect example of this. I created this look around my favorite piece in it, a sequined mini. This was one of the pieces that I had picked out for her in one of our shopping trips, yet she has never worn it despite the fact that it's been sitting in her closet for over 6 months. It is a fabulous skirt, just one of those trends that is quickly on its way to becoming a classic. You can find a sequined skirt in various lengths, from knee-length to mini, but I love that Ann's version is a mini that allows her to show off her gorgeous gams. This look is perfect to wear for a night of dining and dancing.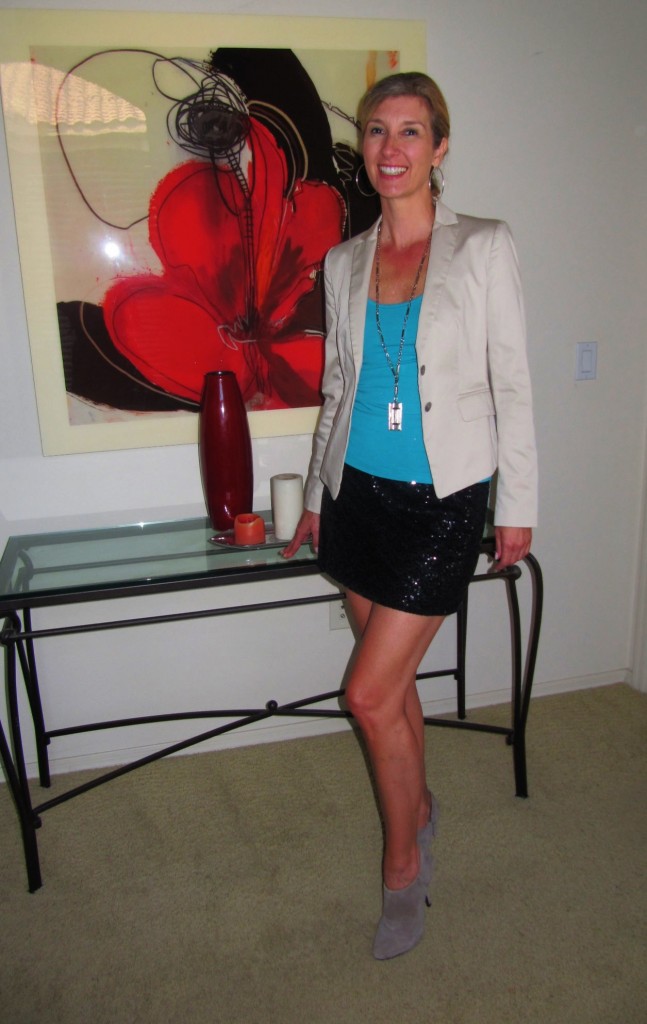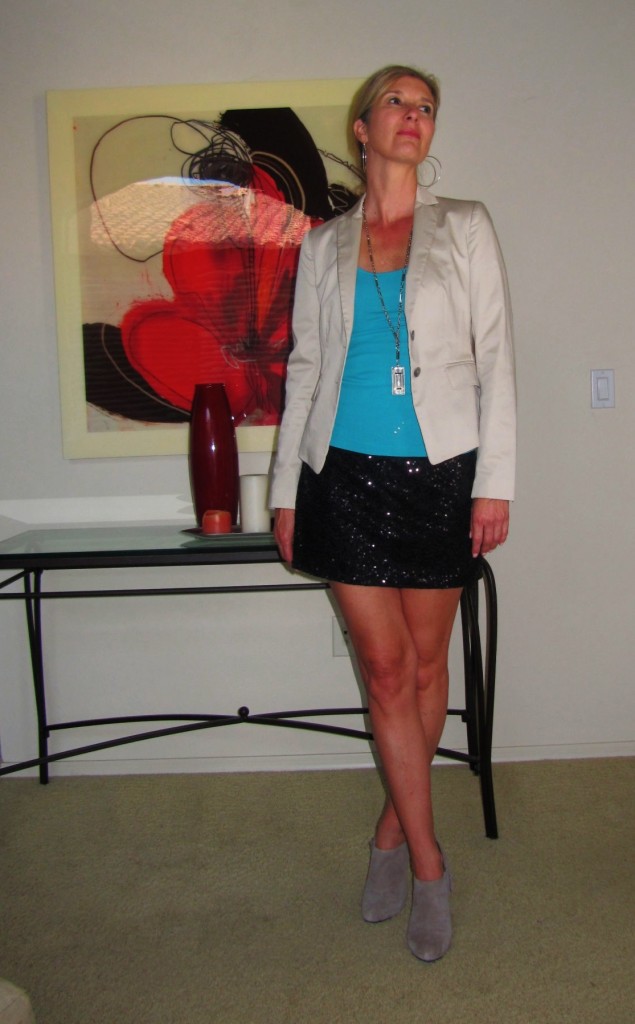 This was probably my favorite outfit I put together that day, and luckily Ann loved it just as much. Unfortunately, I'm not very experienced with this photo session thing yet, and I completely forgot to include the handbag that goes with this outfit in the picture (rookie mistake!), but here it is: a beautiful gray patent leather Coach bag (that she also happened to get in one of our joint shopping outings), and that ties in together with her gray ankle boots very nicely.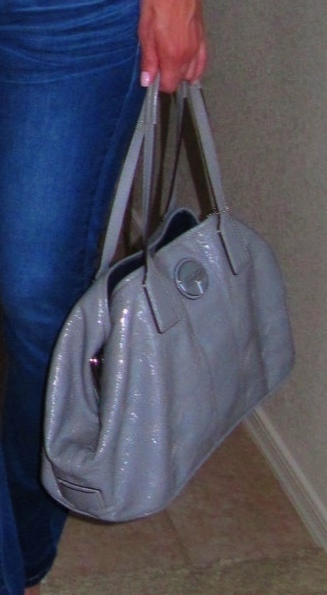 The second outfit, is just a slight variation of the first, just to show how you can give versatility to the same pieces, by just making a slight change to the look. In this case we kept the top part, turquoise tank and blazer, the same, but gave them a more casual vibe by pairing them with cropped cargo pants and silver wedges. Also paired with the gray Coach bag. Great look for going out to lunch on a Saturday.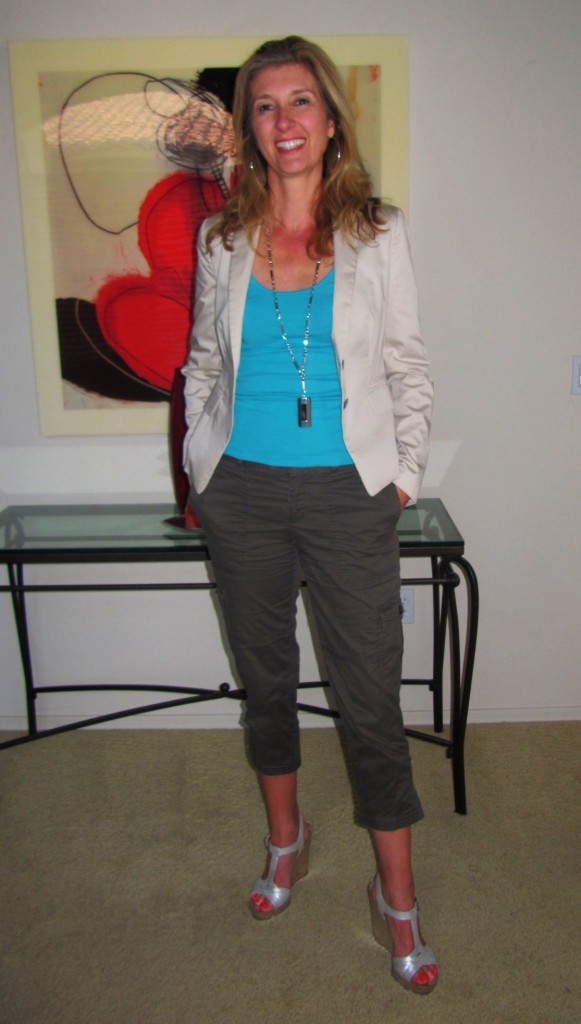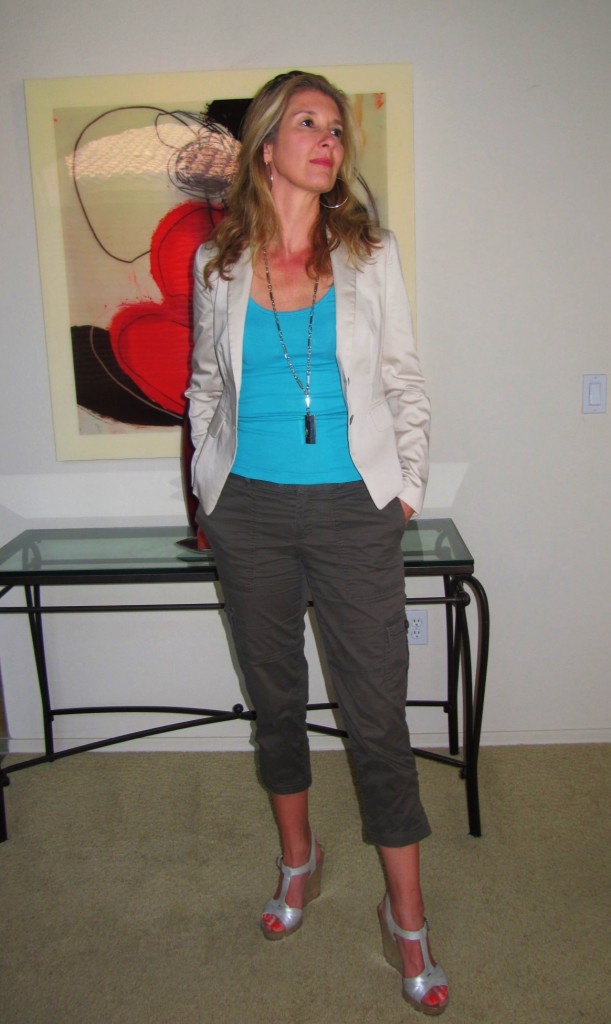 Okay, that's it for today! I still have several more outfits to show you from this styling session, but as usual, I rambled a little too long, so the rest of the pictures will have to wait until tomorrow. In the meantime, I would love to read your comments about these outfits!