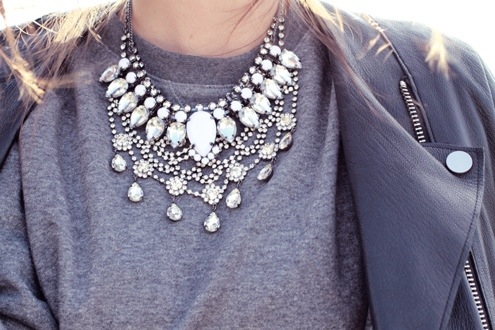 Andy Torres, photo taken from Style Scrapbook
You know by now that I am obsessed with statement jewelry, and necklaces in particular. For me the bigger the better, but even I was a little surprised to find two of my favorite fashion bloggers (and personal sources of inspiration!) doubling up the fun by layering two statement necklaces in one outfit. Is this a new trend? Are we soon going to see layered statement pieces everywhere? I'm not so sure about that. I love the results Andy and Hallie achieved with their pieces, they do look fabulous, but this might be a tricky trend to pull off for the rest of us. What do you think? Is two too much? I guess I'll have to test this one myself… And of course I'll let you know how it goes.
Have a great weekend darlings!

 Hallie, photo taken from Hallie Daily