I am happy to inform you that Pantone (in case you don't know, they're are the authority of color, the standard language of color communication) has announced that the color of the year 2013 will be emerald green. Why does this make me happy? Because I love jewel tones, and emerald green is pretty up there on my top list!
This announcement is not surprising since we've already seen this lovely jewel tone make appearances in the fashion world for the past few seasons, from runway shows to red carpets. However, this Pantone endorsement means that now there's about to be an explosion of emerald green everywhere.
If you have any doubts about this, just look at what happened to the tangerine hue when it was name Pantone color of the year 2012…all of the sudden it was everywhere: shoes, nail polish, clothing, jewelry, makeup, and anything else you can think of, was immediately available in the vibrant hue.
So, now just make sure to add some emerald green to your holiday wish list and you'll be prepared to join this fashionable explosion early next year.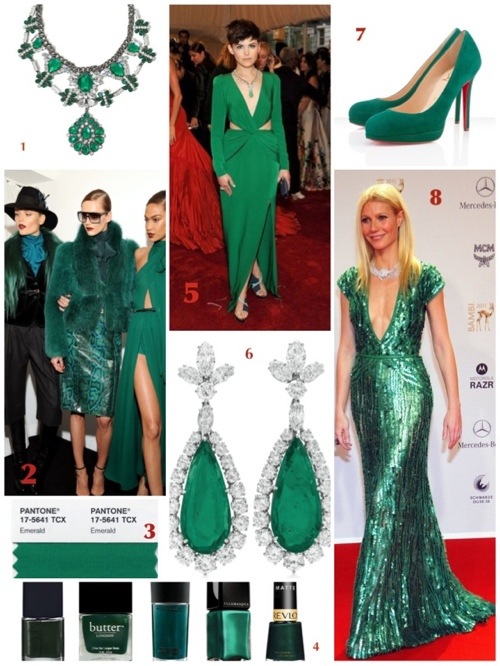 1. Zara faux emerald necklace 2. Gucci f/w 2011
3. Pantone color of the year 2013: emerald green 4. Various nail polishes
5. Ginnifer Goodwin in a Topshop dress 6. Emerald earrings by Bvlgari
7. Christian Louboutin pumps 8. Gwyneth Paltrow in an Elie Saab dress
*All pictures taken from Pinterest and Google images