Happy Monday everyone! Today's look is the outfit I wore to my Valentine's dinner celebration with my beloved. It is such a comfortable look, yet polished and romantic.
You already know by now that black and white is a trendy combination right now, and adding red to the mix is a no brainer. Another big trend we've been seing on the runways for at least a couple seasons is the midi skirt. Some of my favorite midi skirts looks were presented in the Christian Dior Fall-Winter 2012 collection.
For those of you who might be wondering, midi skirt is the term used to name skirts with a length that hits right between the knees and ankles. I personally like this length a lot because after years of seeing mini skirts have their moment, followed by the maxi skirts, the midi lenght feels refreshing to me.
Of course it might seem trickier to keep the midi skirt looking young and modern, but I think the key is in the shoes. Always wear heels! I added the platform shoe precisely for that reason. The whole look is very demure, so it needed some sexy shoes to add a kick (no pun intended!). Of course, the studded clutch also helps keep it fun and young.
Wishing you guys a fantastic week!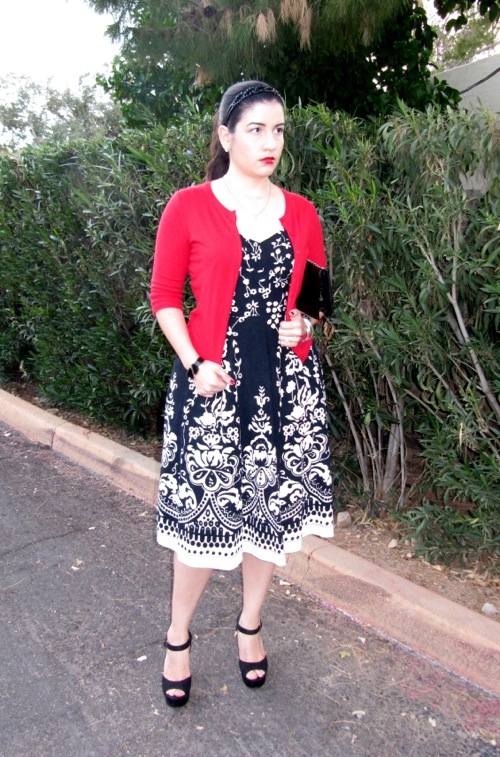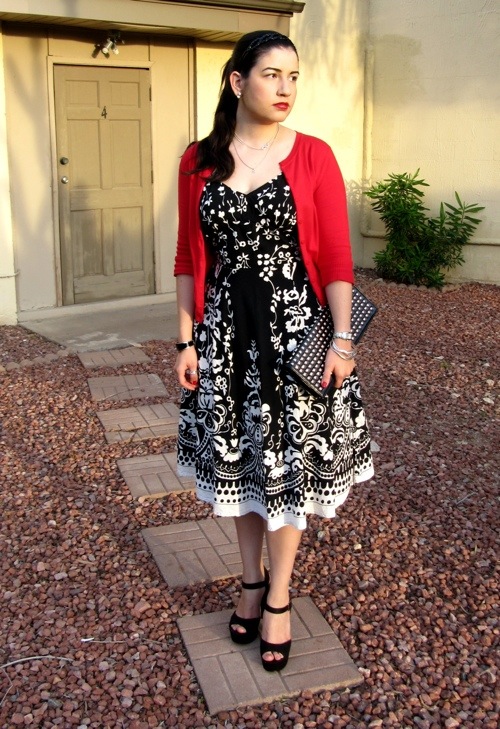 Dress: hand me down from a friend - Cardigan: Nordstrom's BP.
Shoes: Pay Less Shoes - Studded clutch: from Marshall's
Feliz lunes a tod@s! El look de hoy es el outfit que usé para la cena celebrando San Valentín con mi adorado. Es un outfit tan cómodo, además de romántico y con clase.
Como ya saben la combinación blanco y negro es una gran tendencia del momento, y agregar rojo a la mezcla es clásico. Otra tendencia que hemos visto en las pasarelas al menos por un par de temporadas es la falda midi. Algunos de mis looks favoritos utilizando este tipo de falda fueron presentados en la colección otoño/invierno 2012 de Christian Dior.
Para l@s que se estarán preguntando, el término midi se refiere a faldas cuyo largo queda entre las rodillas y los tobillos. Personalmente me gusta mucho este largo porque después de tantos años en que la mini falda ha tenido su momento, y le ha seguido la maxi falda, este largo midi es refrescante para mí.
Claro que puede ser un poco más tricky mantener un look con falda midi joven y fresco, pero creo que la clave está en los zapatos. Siempre usen tacones! Yo le añadí precisamente estos de plataforma por esa razón. Este look es muy recatado así que necesitaba zapatos sexys para darle ese punch. Por supuesto que la bolsa con estoperoles también ayuda a darle un toque juvenil y divertido.
Deseándoles una semana fantástica chic@s!!