Remember when you were in middle school and used to play Truth or Dare ? Well, I played that game many times but you could always count on me to pick Truth only, as I was too much of a coward to go with Dare. However, lately I've been feeling more adventurous, which has translated into me daring myself to step out of my comfort zone. Recently, in the area of fashion, one of those dares involved wearing shorts again.
A few pounds years ago I used to wear shorts (and short shorts at that!) all the time. But at some point during my weight gain journey, I judged shorts as not flattering on me anymore and quit cold turkey. Truth is (no pun intended!) I wasn't comfortable showing off my newfound curves, and it's been years, years I tell ya, since I last wore a pair of shorts in public…come to think of it, I don't think I even wore shorts in private all these years. Anyway, as part of my process of fully embracing my body, no matter what size (a process I discussed in this post and this one), I decided to give shorts another chance.
You most likely won't find me in a pair of short shorts anytime soon, and clearly the ones worn in today's look of the day are more of a Bermuda style, but it's still progress in my book! I tried to dress up the shorts with a collar shirt and my new pointy-toe shoes, which I'm not entirely sure were the best choice, but I still liked the result just enough to feature it here on the blog. So, what do you think? What shoes would you have paired with this look?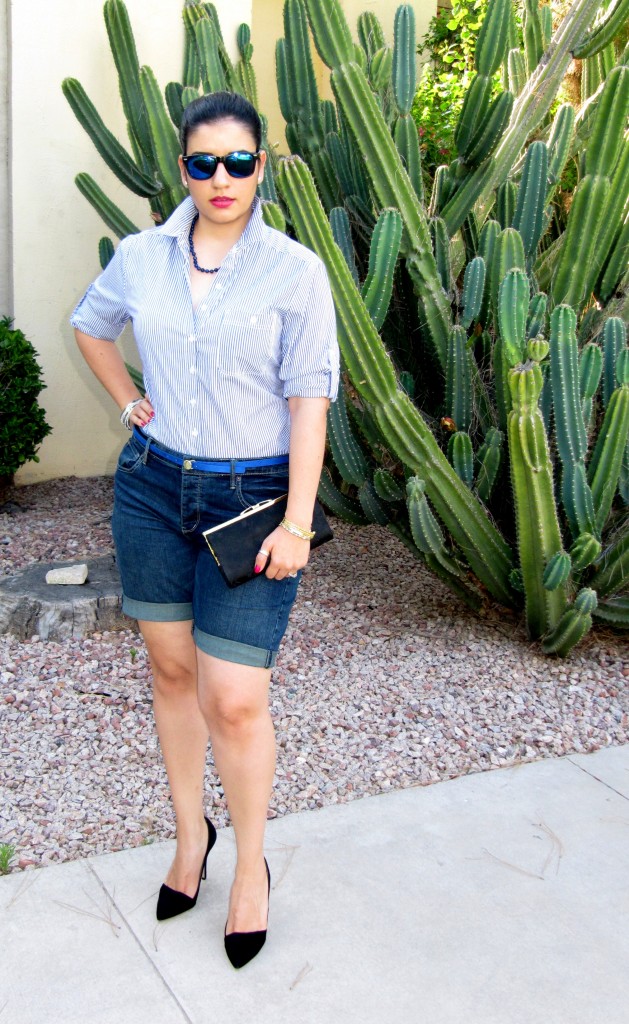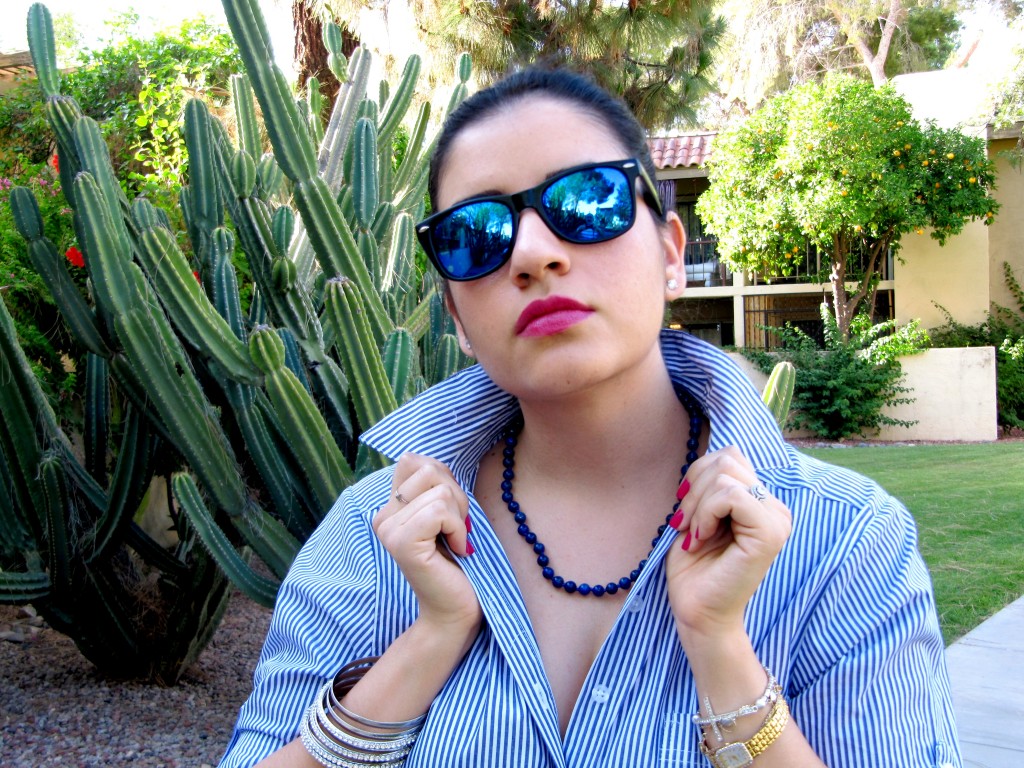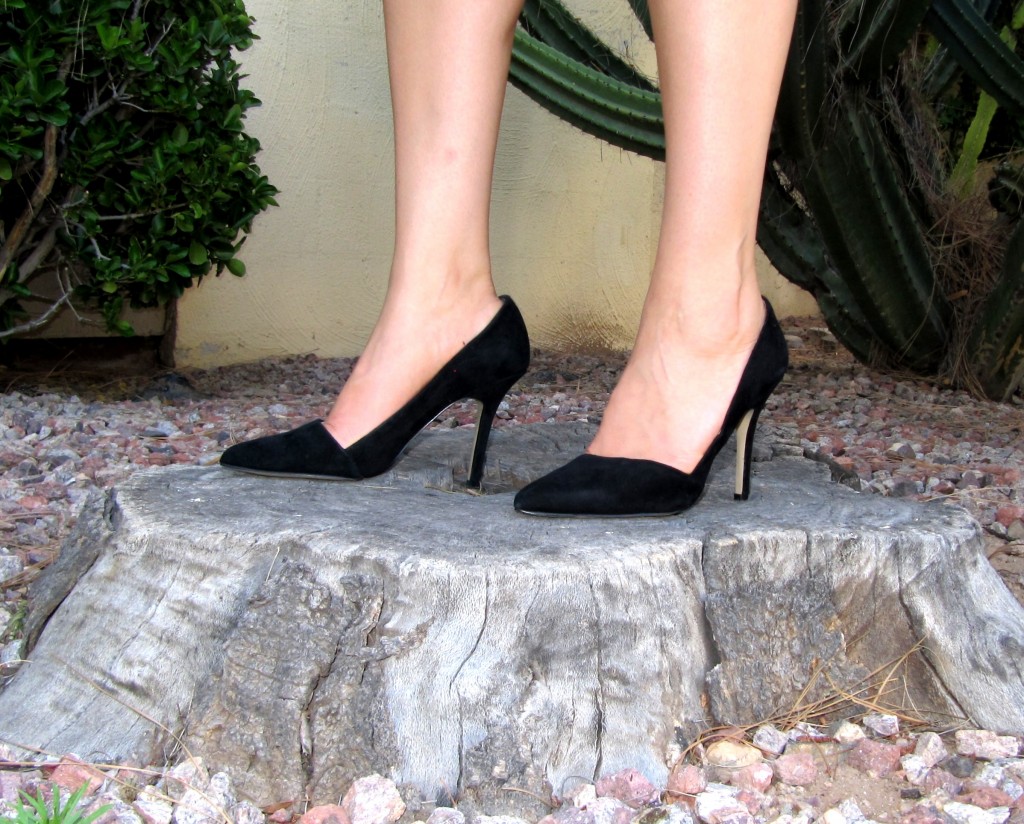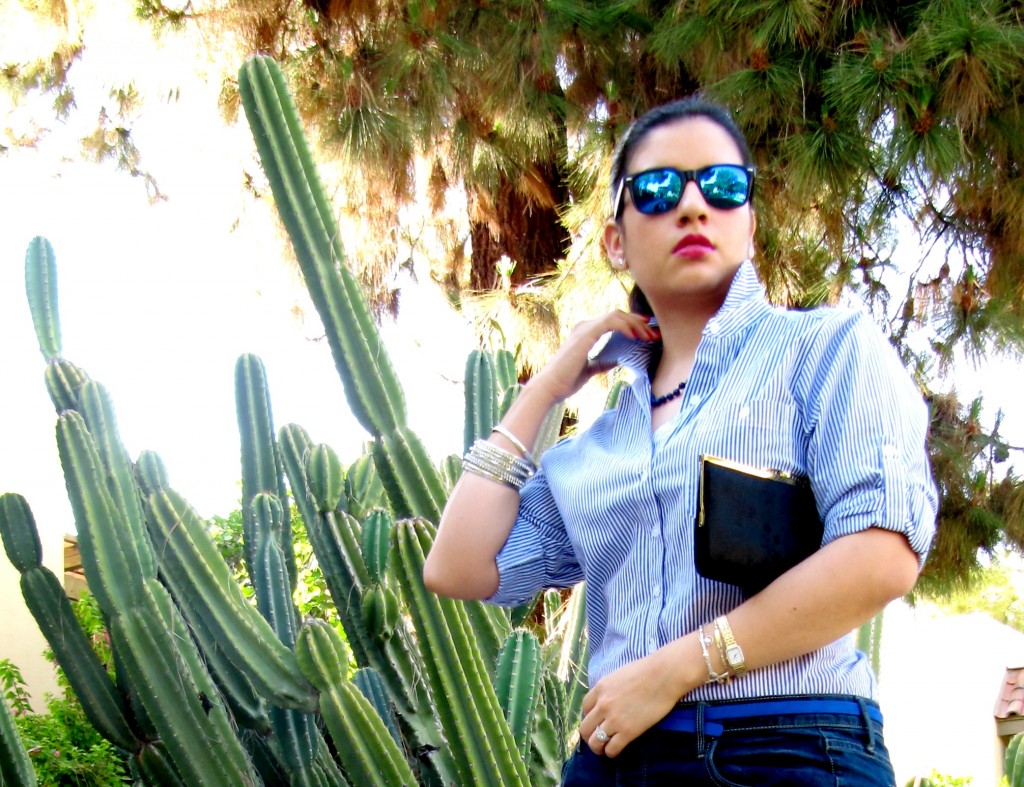 Collar Shirt: from Marshall's - Shorts: Mossimo from Target
Shoes: Aldo - Belt: H&M - Clutch: vintage
Necklace: Afghan Lapis (gift from my mother-in-law)


Recuerdan cuando estaban en la secundaria y solían jugar Verdad o Reto? Pues yo jugué muchas veces y siempre escogí solo Verdad porque me daba miedo pensar siquiera en el Reto. Sin embargo, últimamente me he sentido más aventurera lo cual se ha traducido a que yo misma me rete a salir de mi zona de confort. Recientemente, en el área de la moda, uno de esos retos fue volver a usar shorts.
Hace algunos kilos años atrás yo solía usar shorts (y de los mini shorts hasta eso!) todo el tiempo.  Pero en algún momento en mi trayectoria de subir de peso, juzgué que los shorts no me eran favorecedores y los dejé de golpe. La verdad es que no me sentía cómoda exponiendo mis recién adquiridas curvas, y han pasado años,  años les digo, desde la última vez que me puse un par de shorts en público… ahora que lo pienso, creo que ni siquiera en privado me puse shorts en todos estos años. En fin, el caso es que como parte de mi proceso de realmente apreciar mi cuerpo, sin importar la talla (proceso del que hablé en esta publicación y en ésta),  decidí darle a los shorts otra oportunidad.
Seguramente no me encontrarán vistiendo los mini shorts próximamente, y como podrán ver los shorts del look del día de hoy son mas estilo bermudas, pero aun así es un gran avance para mí. Traté de darle un toque más sofisticado al look agregando la camisa de cuello y los zapatos con punta puntiaguda, los cuales no estoy completamente convencida que hayan sido la mejor opción, pero aun así me gustó el resultado lo suficiente como para publicarlo aquí en el blog. Ustedes qué piensan? Qué zapatos hubieran escogido para este look?