I don't usually use the blog as an outlet to discuss or dissect runway shows and/or their trends, but there was one unexpected item making an appearance on top haute couture runway shows recently that has me really intrigued as to whether or not it would go further than that as a trend.
I don't know about you guys but as much as I love my beautiful high heels, I actually don't wear them very often. They can be gorgeous and even flattering, but oh the unnecessary pain they inflict onto us stares right back at me whenever I stand in front of my closet trying to decide on footwear for the day. I confess to having fantasized, more than once and usually after wearing a pair for hours, about living in a world free of high heels; a world where looking presentable doesn't involve any kind of torture; where comfort meets fashion; where you can look just as fashionably fierce in sneakers as Carrie Bradshaw did in her sky-high heels.
I suspect I'm not the only one who has had some version of this fantasy, and now, guess what? The fashion masters of the universe seem to have decided to cut us (and our tortured feet) some slack and filled their most recent runway shows with sneakers everywhere! The most fashionably looks by the likes of Chanel and Dior were paired not only with sneakers (after all, vans and converse have long been acceptable as a form of fashionable footwear for certain looks), but with very sporty looking ones. We are talking couture gowns paired with a Chanel sparkly version of the athletic sneaker, people! Kind of shocking, isn't it? It really does take the eye a bit to adjust to the sight of haute couture head to ankle, followed by runner shoes.
Now, here's what I'm really curious about, finding out your thoughts on this subject…what do you think of this newly proposed trend? Do you predict it will translate to the streets? Will the masses embrace it? Will sneakers become ubiquitous outside of the gym and running trails? Or will it go just as far as the edge of the runway strip? A trend just for the fashion eccentrics of the world? Would you wear a classic Chanel tweed jacket and skirt with your favorite running shoes?
That what do I think you asked? I think it might take some time to get used to the sight of sneakers accompanied of what we considered "dressed up" or serious clothes…but we've been dreaming about this day for way too long to let this opportunity pass us by. So yes, I predict somewhere in the not too distant future, even the most appalled judges of this trend will be taking it out for a test run.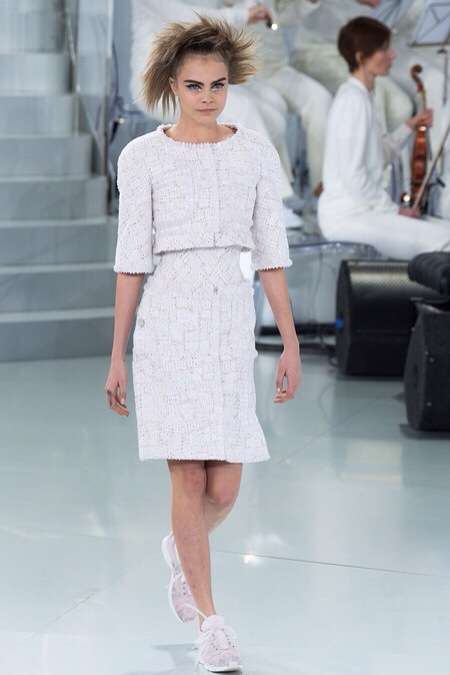 Chanel Spring Couture 2014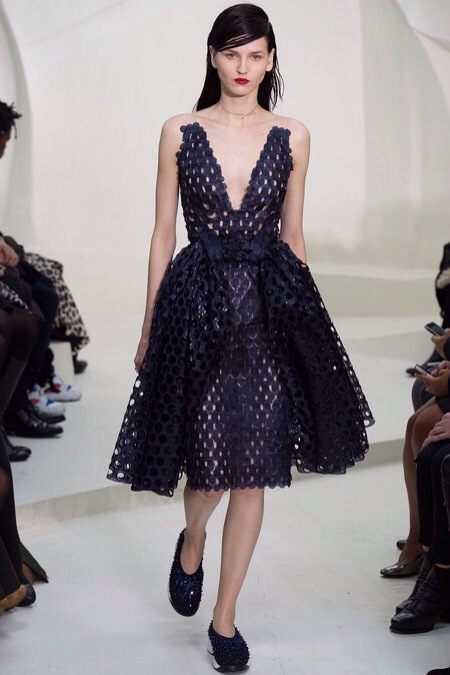 Christian Dior Spring Couture 2014
Photos from Style.com