I hope by now you've decided to start cleaning your face, applying a nutrient rich serum and moisturizer daily, if you weren't doing it before that is. Our skin is not just a very important part of what makes us beautiful, but it's also out largest organ, so we should always take care of it properly.
Now for the third part of this beauty series, comes an optional step (if you're lucky!)… zit control. Unfortunately, I am not one of those lucky girls who gets to leave acne behind along with their teenage years. I actually, for the most part, had great skin in high school, granted I've been taking great care of my skin since I was 11!  However some time around 18 years old, I began slacking a bit in the skincare department, and I started breaking out. I tried to get it under control once the problem started, but nothing seemed to really work by then, in fact it got progressively worse. By my early 20's, I was ready to try the most intense treatment my dermatologist could prescribe, and I did.  It worked great, and I hadn't  had much trouble with acne again, other than the occasional zit… until now.
Here I am, approaching 30 faster than I'd like to, and breaking out like a 15 year old! The acne I'm currently experiencing is actually not as bad as it used to be several years ago, but it still drives me craaaazy. I've been breaking out pretty much every day for the past 7 weeks. Most of the time they are small pimples, but of course every once in a while one erupts big enough to make me feel like I'm carrying Jupiter right on my face.
That's why this has become an important step for me recently. As usual, I like to try several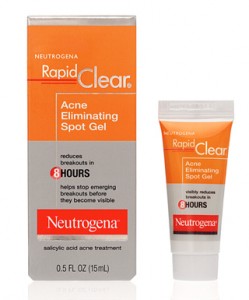 products in order to figure out what works best for me, but sadly none of the anti-acne products usable during the day have stood out (there's a night time remedy that has been working out great, but more on that later!). So I'll just mention my latest in this category, Neutrogena Rapid Clear Spot Gel. As the name indicates, it is a spot treatment that comes in the form of a clear gel that you apply only on blemishes, not the entire face. Not sure if it works as effectively or as fast as it claims, but it goes on clear, and I need all the help I can get on the fight against stubborn blemishes, so I use it.
Most products out there contain either salicylic acid or benzoyl peroxide to fight acne, but you have to be careful when mixing active ingredients from different products because some of them should never be mixed (either they can cause a reaction when combined, or they simply cancel each other out, which makes for a huge waste), so I've been sticking mostly to salicylic acid.
I actually had intended to also share the last step of my morning routine in this post, but I can't seem to stop my rambling habit, so it will have to wait until tomorrow because right now I gotta go.
Don't forget to keep me posted on your own beauty routine, and please share if you have any secret weapon of your own against evil acne!
Neutrogena Rapid Clear Acne Eliminating Spot Gel: $6.97 at Walmart.