Today comes the last part of this beauty series, my nighttime beauty routine.  It begins pretty much the same as my morning routine, with a clean face. It doesn't matter if I wear makeup or not that day, I always clean my face at night, at least with a face wipe (Pond's Morning Refresh). Another morning product that I use also at night, it's the Sephora Instant Depuffing Roll-on Gel for the eyes. Although, lately I've been using a sample of Dr. Brandt Dark Circles Away I got with my reward points at Sephora. I like it, but at a hefty $55 for half an ounce, I probably won't be buying it any time soon.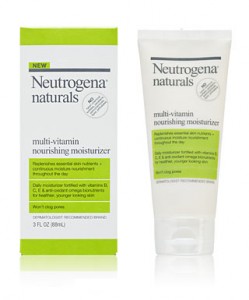 After cleaning my face and taking care of my eyes, I moisturize the rest of my face with Neutrogena Naturals Multi-Vitamin Nourishing Moisturizer. You may ask why not use the same moisturizer I use in the morning, and although I do sometimes, it's just my personal preference to use something different at night. There's not really a scientific explanation for this, but I just feel like I don't want to saturate my skin with the acne fighting ingredients, and since I do apply a zit cream on blemishes at night, my moisturizing goal at this time is just to load my skin with some rich nutrition.  This multi-vitamin lotion does just that and it's all natural. Bottom line, I've been pretty happy with this Neutrogena Naturals line of products.
And last, and certainly the least attractive part of my whole routine is applying a spot treatment

on blemishes (it dries on pink, so I go to bed nightly with pink spots all over my face!). This is another area where I have experimented with several different products and brands, but my latest is Mario Badescu Drying Lotion. I had been hearing about it for years, but it's a little bit more than I usually spend on this kind of thing, so I hadn't tried it. However, with the mild acne I've been fighting lately, I finally gave in and went for it. It is $17 for 1 oz. but so far it's been worth it. Its active ingredients are sulfur and salicylic acid, and depending on how bad the pimple is, it can dry it out in one to two nights. Sometimes it might take three nights to completely banish it, but after the first night it will be significantly smaller, sometimes even invisible on the surface. So, I am more than satisfied with it.
That's it for my daily facial skincare. In a nutshell: clean, nourish, moisturize, and protect against the sun. Fight pimples with salicylic acid, and you are good to go. I bet you see improvements in your skin if you follow those simple steps. As always, please share any feedback you have on this.
Neutrogena Naturals Multi-Vitamin Nourishing Moisturizer: on sale for $11.04 at Ulta.
Mario Badescu Drying Lotion: $17 at Nordstrom.