It's finally Friday,  which I would usually be pretty happy about, except I have a crazy busy weekend coming up, and not socially busy but work busy, so I'm not really feeling the Friday spirit today.  Next Friday is looking more promising for me though, since I'll be leaving for Los Cabos, Mexico the very next day. It happens to be a work trip, but it's Cabo baby! I've never been to Cabo before, and luckily I'll have plenty of time of my own to enjoy some of what it has to offer, so definitely excited about that. Also, as a bonus, one of my bff's happens to live there, and though we stay in touch often and are still very close, I haven't actually seen her in years. So altogether, I just can't wait for this trip to happen.
Moving on to today's look, it is the last outfit I shot last weekend, and I think I'm definitely going to try to keep doing this "shoot all outfits on weekends" thing, whether I'm actually wearing them out or not, because my social life is not active enough to keep up the blog's content all on its own. So, about today's outfit, I just gotta say I'm not big on wearing jeans (interesting choice of words since the reason is I feel too big when wearing jeans, ha!), as a matter of fact I'm not a fan of wearing pants in general. Maybe it's just a crazy idea of mine, but I feel more comfortable and flattered by skirts and dresses. However, winter is quickly approaching and as much as I try to hold on to my skirts and dresses by wearing tights, eventually the weather will win the battle and I'll be wearing jeans and pants most of the time. So, I decided to do an outfit wearing jeans as part of trying to get mentally prepared for the wardrobe adjustments I'll have to make sooner rather than later.
Now, one of my favorite things about this outfit is this fabulous silk vest I scored for next to nothing at Banana Republic last year. The vest itself is fabulous, although I'm not sure is quite as fabulous on me, but I love it too much to care. I have tried wearing it belted before hoping that makes it better, yet it's still debatable. I guess I'll just have to show you the belted version some time soon so you can decide which way it looks better on me.
The studded clutch I got about 4 years ago and I have gotten quite some mileage out of it. I have always loved it because it gives just a little extra something, a wink-wink, to my usually conservative outfits.  However, this year I'm even more excited to keep strutting it around after seeing the fall/winter accessories collection from Valentino, it is full of studs! Glad this trend isn't going anywhere just yet, we all need a little bit of rock'n'roll in our lives, right?
Wishing you guys a fantastic weekend.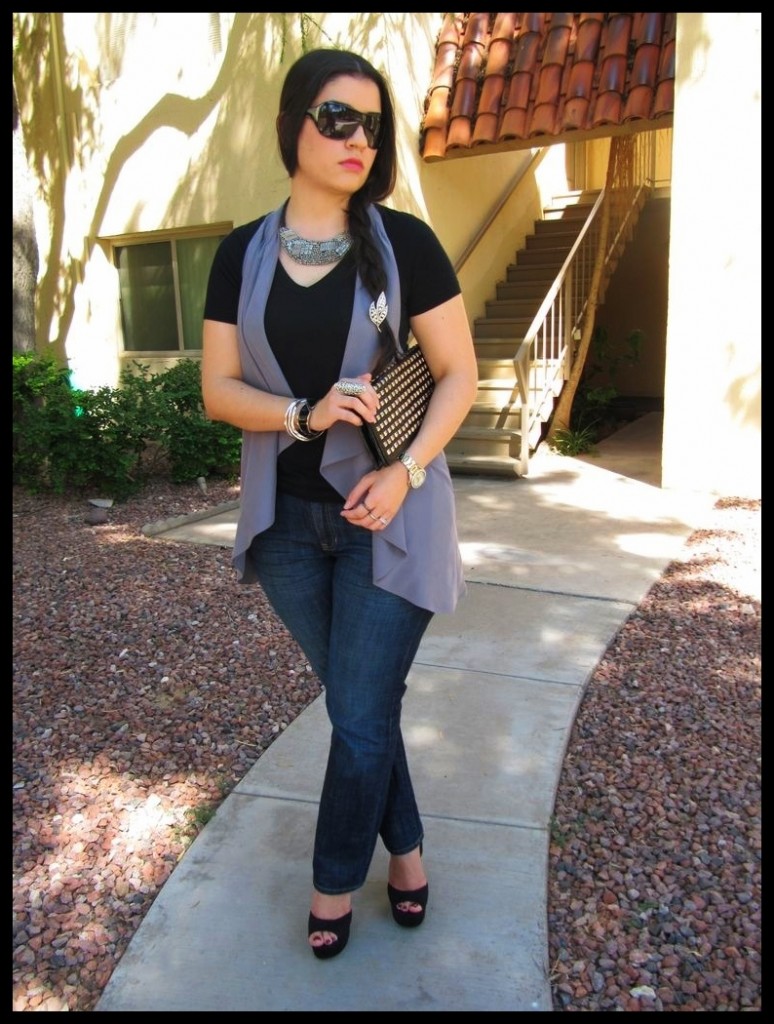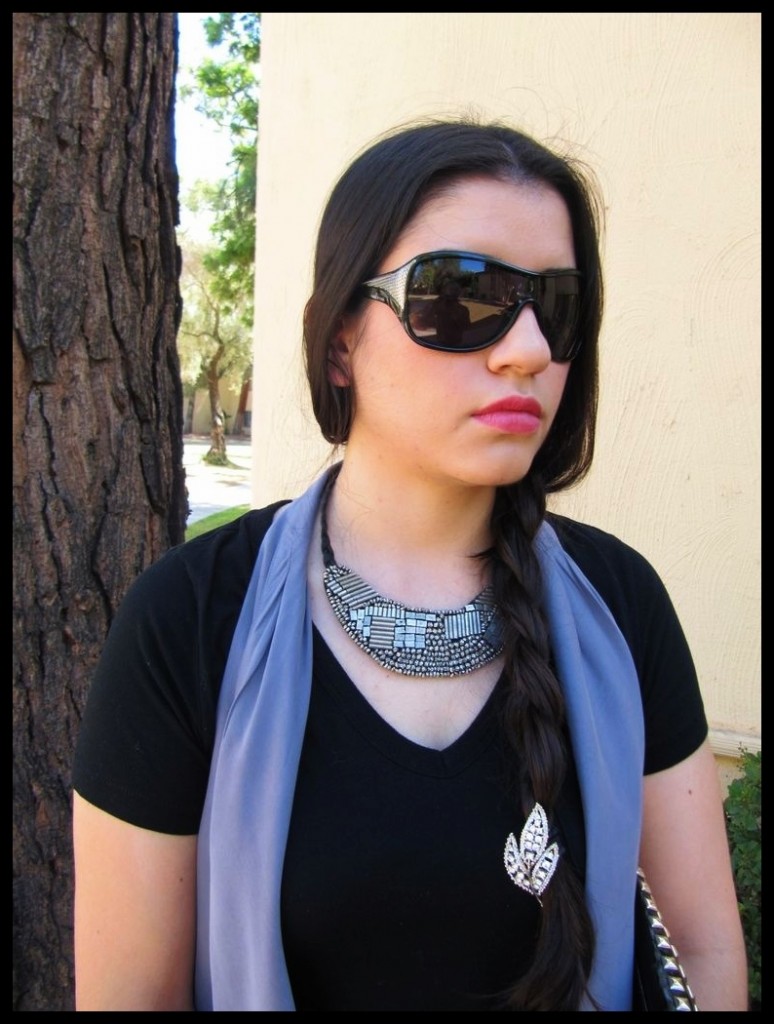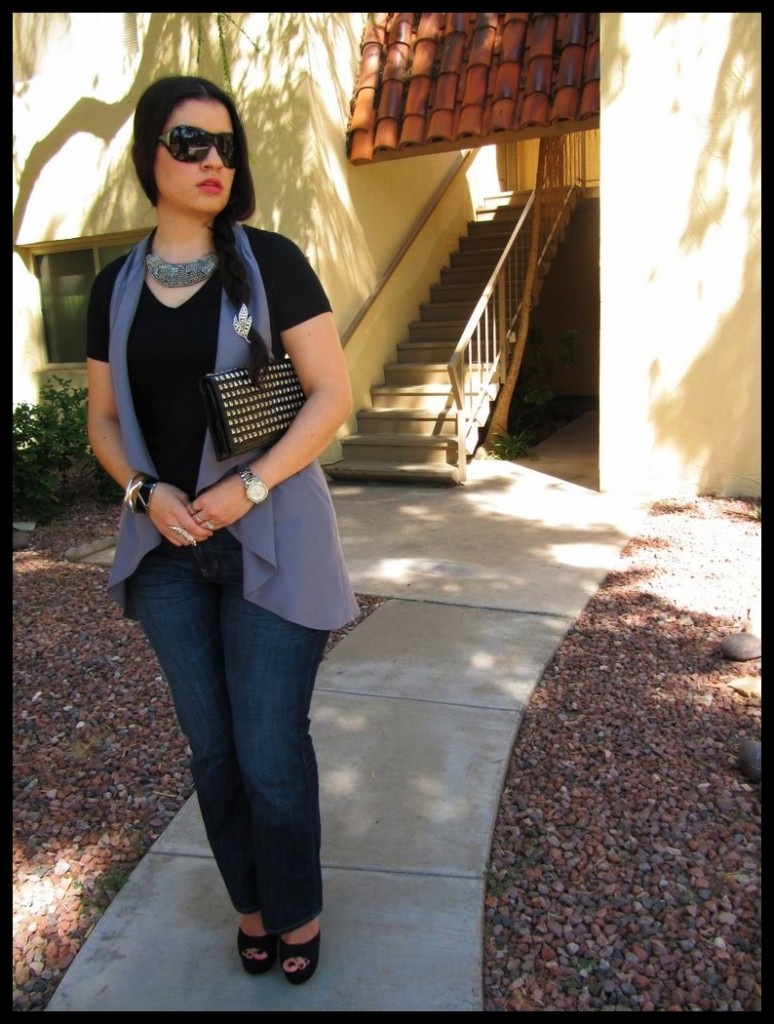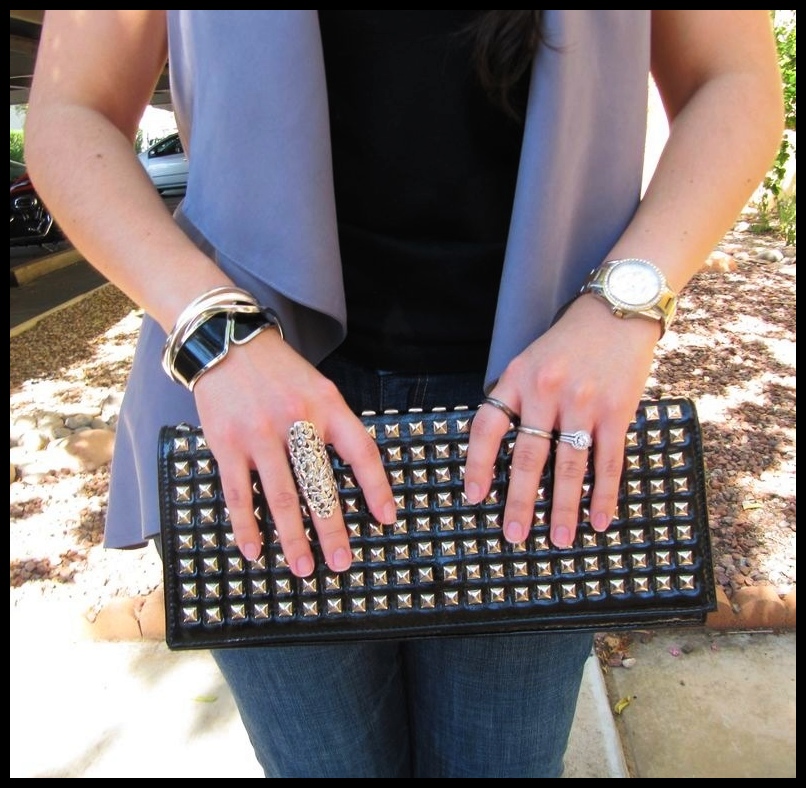 Vest: Banana Republic
T-shirt: Old Navy
Jeans: Gap
Necklace: Urban Outfitters
Brooch: vintage
Studded clutch: from Marshall's
Right hand ring: Aldo
Black cuff: vintage
Shoes: Payless
Sunnies: Valentino