If you are a big Sex and the City fan like me, then you'll surely remember Carrie's infamous 'naked dress' which she wore on her first date with Mr. Big. Well, Carrie's little 'naked dress' move over, because Kristen Stewart's very own naked dress has arrived!
Nude dresses are no novelty, they've been in style for a little while (even I've worn one, which you can see here). However, the young start wore a very daring, very nude and very sheer, Zuhair Murad dress last night to the premiere of the Twilight Saga: Breaking Dawn Part 2 in Hollywood. Now, probably very nude and very sheer is a combination you wouldn't think to wear, other than in the bedroom, but that's fashion for you, just when you think something is off limits, all of the sudden it isn't!
I still haven't decided if I think this dress is the sexiest dress ever or simply the tackiest, when it comes to fashion (and also life!) I like to keep an open mind and really give new ideas a chance before dismissing them… But what do you think? Did she take it too far with this little number? I'm really curious to read what's your take on this dress!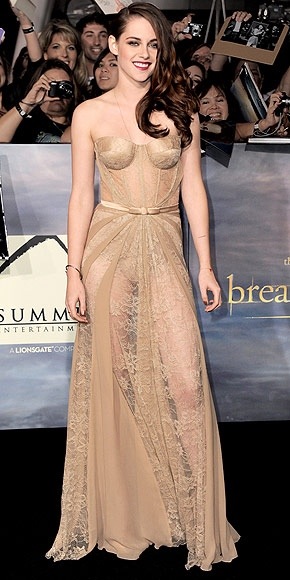 Photo taken from People.com