I was just going through my iPhone pictures trying to declutter my albums a bit, when I came across this photo and realized I never shared it with you.
As you know, I love playing fashion stylist to my friends and family, and have been doing it for years. One of my favorite "clients" is my brother's girlfriend, and I love styling her outfits. She and my brother visited me over the holidays and I also got the opportunity to play personal shopper with her. She followed my advice on several amazing pieces she bought, and here's a little example of one of the outfits I put together for her, combining pieces she already owned and brand new ones. I gotta say, I love the result!!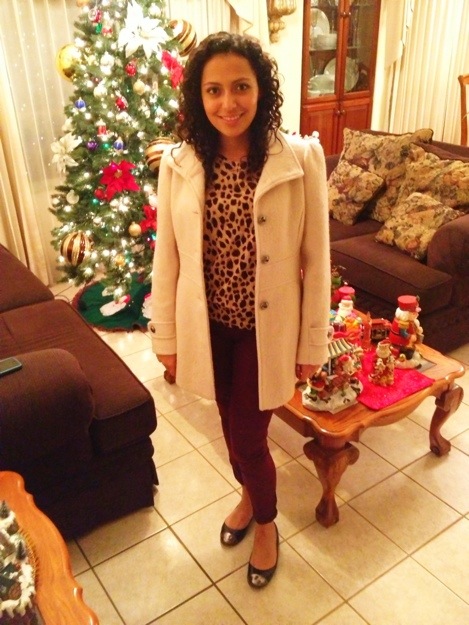 Burgundy skinny jeans she already owned
Leopard print top: from Target
Ivory coat: from Burlington Coat Factory
Flats she already owned
Justo estaba checando las fotos de mi iPhone para tratar de hacer limpia, cuando me encontré con esta foto y capté que nunca la compartí con ustedes.
Como ya saben, me encanta hacerla de consultora de moda de mi familia y amigas, y tengo años haciéndolo. Una de mis "clientas" favoritas es la novia fe mi hermano, y me encanta armarle outfits. Ella y mi hermano me visitaron n diciembre así que también tuve la oportunidad de hacerla de su 'personal shopper'. Siguió mis consejos en varias ocasiones y se compró unas piezas maravillosas, y aquí está un pequeño ejemplo de uno de los outfits que le armé, utilizando tanto piezas que ella ya tenía como un par de las nuevas. Tengo que decir que el resultado me encantó!!