I know I've been kind of absent from the blog this week, but things have been a little crazy (as in psycho-crazy!) for me lately. However, I'm ecstatic that it's finally Friday, and I promise to try really hard to work on some new content this weekend.
I am also very excited to start receiving some packages with a few items I purchased online this week. I've been on a real shopping craze for the past 6 weeks or so, and besides waiting to receive some new things in the mail, I have a few new things at home I bought weeks ago that I haven't worn yet.
So stay tuned to find out how I'll be styling some of this new babies soon. I won't show you everything I've bought… There is one item in particular I am dyyyyyiiing to show you, but I'll wait until it's properly styled to make its debut on the blog (it happens to be a fall item and it's still too damn hot to wear in this city, so bear with me on the wait)… But here are a few I can share with you for now. I am really excited about the cognac crossbody bag, I had been searching for one for a while; the black shoes are practically flats, and I would've liked them to be a little higher, but still happy with them; the two pair of heels are waiting for me at home right now and I can't wait to get home and greet them; the skirt and nude clutch should be in next week, and the statement necklace may have to wait a couple of weeks to be in my hands. The best part is I got excellent deals on all the items. What do you think? Do you have a favorite item from this list?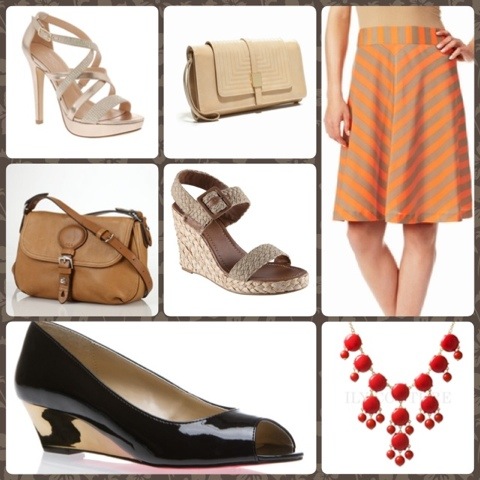 Metallic strappy sandals: Aldo
 Red statement necklace: ILY Couture
 Cognac crossbody bag: Lauren Ralph Lauren via TJ Maxx
 Taupe wedges: Aldo
 Striped skirt: The Limited
 Black low heel wedges: Shoedazzle
 Nude clutch: The Limited