I don't know about you but I was rather unimpressed with the SAG Awards red carpet last night. Don't get me wrong, there were plenty of pretty dresses around but when it comes to a big award show like that, I expect more than pretty dresses, I expect to be wowed.
Anyway, despite the lack of wow factor for me, I do have my top 5 of pretty dresses ready for you, and here they are:
#5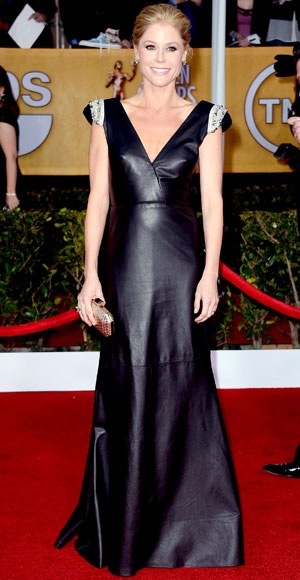 I appreciate Julie Bowen switching it up a bit, and going for the not-so-usual leather gown in this Johanna Johnson number, of which I also like the shoulders detail.
#4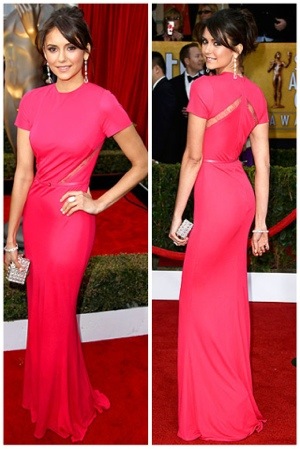 I am a big fan of Elie Saab's designs, and this one on Nina Dobrev is quite pretty. I love the color and the fact that it has sleeves, but definitely what makes this dress is the oh-so-trendy sheer paneling.
#3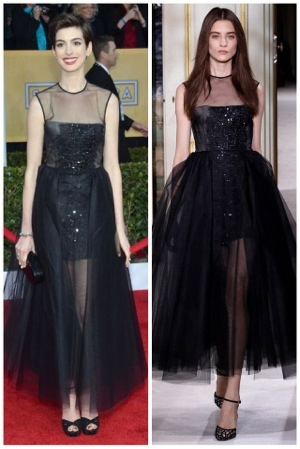 I really enjoyed watching Anne Hathaway's Giambattista Valli Haute Couture design on TV during the actual award show, but I was disappointed to see that this dress didn't translate very well in pictures. So, I decided to add a picture of it from the actual runway show so you can appreciate it better. I know it's a little out there with all the sheer fabric, beading and big puffy skirt, which might not make it a favorite for many, but I think the designer did a good job of somehow making it all work.
#2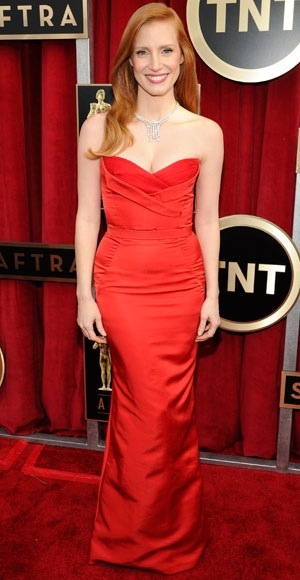 And speaking of lady in red (in reference to this post), Jessica Chastain perfectly proves my point that a little red dress and classic accessories make for a timeless look that will never ever go out of style. She also proves that redheads can kick the old myth of having to avoid red clothing to the curb, and embrace how fabulous they can look in this hue. However, it was ultimately the old Hollywood glamour and sexiness of this Alexander McQueen creation that got it a spot on my list.
#1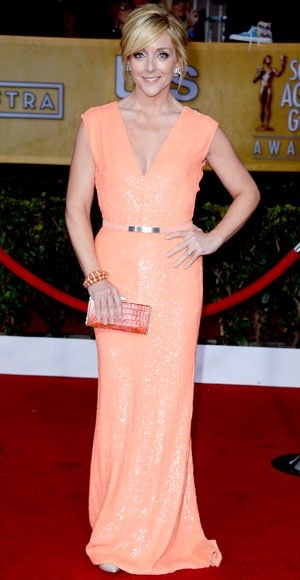 And here you have it, my absolute favorite of the night! And I'm as surprised as you are that my number one spot didn't belong to any of Hollywood's favorite fashionistas, but Jane Krakowski (and her stylist!) did a superb job picking this Kaufmanfranco design. I love the unexpected sequined color, the deep V neckline, the detail at the waist, and how it was accesorized to perfection. From head to toe, she looks beyond beautiful, she looks simply delectable (peach-orange sherbet anyone?).
Photos from instyle.com and style.com